What is a "volunteer based" CSA?
We are a very small CSA and depend on volunteer labor from our members. The volunteer schedule is quite flexible. Some stop by for an hour or so each week to help with the harvest or pull a few weeds. Others put in one Saturday morning a month helping with whatever needs to be done. And many work out a schedule that meets there situation. We're flexible but do depend on the help and have come to value being part of a community who not only want to enjoy fresh vegetables but also want to get involved in the farming process. Reflecting this volunteer component of our CSA the share cost is considerably lower than many "commercial" CSA's.
What quantity of vegetables should I expect per share?
While this will vary over the course of the growing season, a single share should provide vegetables for two people for a full week (or several meals for a larger group); a family share might be more appropriate for a family of 4 or 5. Please indicate which you want on the sign up form. Quantity will also vary with the growing season.
Over what time period will produce be harvested?
This is of course heavily dependent on our wonderful Maine weather, but the early crops (peas, string beans, some lettuces, beets, etc) should be ready for picking in June while tomatoes and corn come later
in July(or even early August in a cold summer). On the other hand, with a year like last summer we were still picking corn at the end of September. Meanwhile the winter squash, pumpkins, storage potatoes/onions, etc will be harvested right up into early October.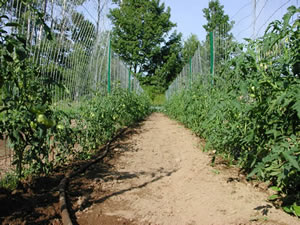 When and where will I be able to pick up our vegetables?
Produce can be picked up at the farm on your scheduled day (Mon. or Fri….please make your selection on the sign-up form) anytime after
12 noon. The staggered days will allow us to harvest more produce at its peak, as well as hopefully fitting into various family schedules.
What can I do if I need more/less of a certain vegetable?
There will be a "swap" table at the pick-up area where you can leave items you know you are not going to use and help yourself to anything that's there. (anything not picked up or left on the swap table will be recycled the following morning so what's there will always be fresh picked)
What should I do if we will be away (vacations, etc)?
You could have someone else pick up your share that week, or let us know in advance and we'll put it out on the swap table. We attempt to donate any unused produce to local food pantries and shelters.
Is the farm "organic"?
While the land is not certified as organic, we use only the minimum necessary amounts and largely organic pesticides, etc. Irrigation, limited as it is on our farm, is with well water. It's always a tradeoff
between how many earworms (etc) you can tolerate and how "organic" you can grow. We try to find a reasonable balance!
How will the "volunteer" program at the farm work?
Can we visit the farm for picnics, family events, etc?
By all means stop by for any of the above (please talk to us in advance about any sizeable outing). And be sure to introduce yourself when you come by for pick-ups.
Where is the farm located?
The farm is located on the northern border of South Berwick. Actually parts of the land are in North Berwick and Wells as well as South Berwick. So it is another 10-12 minute ride north from the center of So. Berwick but is a lot closer to North Berwick and Wells residents.
If you have any other questions please contact us.